London Tech Week: why co-innovation is the new king in town
SHARE
With London Tech Week well underway, we gathered at IDEALondon's Shoreditch HQ on Wednesday night to hear start-ups and corporates discuss the merits of co-innovation.
And what a popular subject it was!
IDEALondon's swanky London office was fit to burst, but we managed to bag a seat and got settled in for the discussion.
Let's introduce these panellists then…
Tom Kneen – Head of Business Development, British Innovation Gateway (BIG) at Cisco Systems
Shetal Edwards – Head of Innovation Partnerships at EDF Energy Blue Lab
William Bainborough – Co-founder and CEO at Doordeck
Sophie Deen – Founder and CEO at Bright Little Labs
Nick Le Fevre – Business Development Lead at Founders Factory
Moderator – Emily Spaven – Editor at Tech City News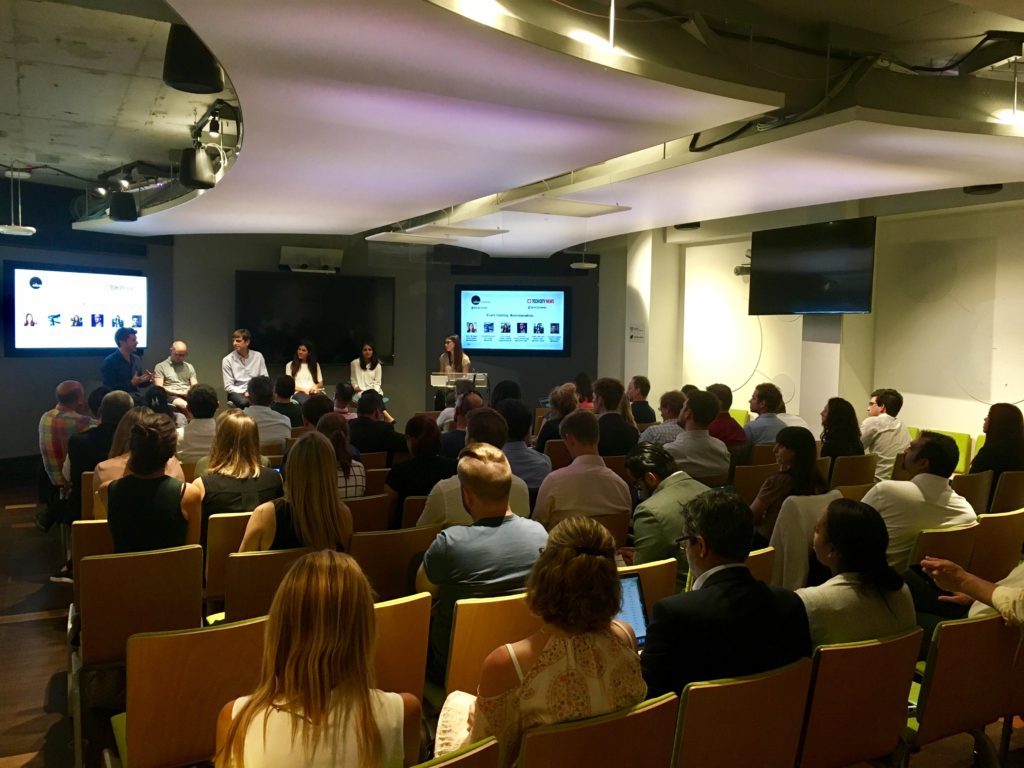 Here's what they had to say…
What's it really like working with corporates?
First to answer was Sophie Deen, the mastermind of DetectiveDot and agent for the CIA (Children's Intelligence Agency – yeah, I freaked out at first too):
"The support network you receive is second to none. Even as one of the alumni I'm still constantly in touch. They are my mentors. I go to them for almost anything."
"Our corporate accelerator programme gave us huge credibility – it gave us that seal of approval. It opened doors for us that would have been otherwise sealed," said William Bainborough, an IDEALondon resident and your go-to guy for all things smart door-related.
How do you even begin to choose a programme?
William continued: "Firstly, the programme has to match your product."
Agreed – there's no use applying to a smart energy programme if your product is all about IoT.
But the 'golden rule', he reminded us, "is to make your company as successful as possible – so you have to choose a programme that will help you achieve this."
And Sophie? She described her choice as "random" but was happy with her path nonetheless.
And she's certainly doing well in her mission to turn the next generation into coders, not Kardashians (as she so eloquently put it)!
How about the other way round…what's it like for corporates to work with start-ups?
Tom Kneen started: "We welcome the collaborative environment. It's like university – we all learn from each other. It opens doors not just for the start-ups but for us as well. And all our alumni are still very involved."
Does he think Cisco's name attracts people to IDEALondon?
"Yes, definitely. But IDEALondon is extremely sustainable on its own. The alumni are so involved and we have some great support from UCL."
What about EDF Energy?
"EDF is very new to this," Shetal said. "We've just completed an accelerator programme, and we plan to launch one later this year, as it had so much interest.'
What's in it for corporates?
For EDF Energy it was a way to bring in new ideas.
Shetal explained: "We wanted to learn from start-ups. The energy industry is ripe for disruption and it looks like it may come from outside the industry. Amazon's Alexa could possibly replace the role of your smart meters."
She added: "We want to start thinking like a start-up."
What are the risks associated with co-innovation?
Nick Le Fevre from Founders Factory is in a unique position. He facilitates the relationships between start-ups and corporates. He sees co-innovation as a "melting pot of great collaboration."
But he definitely acknowledges the risks. Running out of money, echoed by William and Sophie, is a significant one.
For William, Cisco played a big part in easing his financial worries. He would have not seen the clients he did without Cisco.
And what about the risks for corporates?
As Tom said: 'investing in the right ones is a difficult choice to make. And having invested money in start-ups you want them to do well and keep the relationship going, even when they exit.'
How much is it really about location location location?
EDF Blue Labs is based down in Hove, a conscious choice to be near the firm's HQ. And its distance from London apparently didn't deter people. There was still a 'healthy' application response.
Cisco found a model they liked and have replicated in Manchester with Mi-IDEA – another post-accelerator programme with a focus on healthtech, smart cities and other digital sectors.
It seems as long as you have a successful business model you can set up almost anywhere.
Is co-innovation the way forward?
It seems start-up and corporate co-innovation has a bright future in UK tech.
As long as start-ups choose the right programme for them, and all parties are willing to learn from each other, it is certainly a road to success.
And it seems like there are more opportunities to co-innovate than ever before.
So, start-ups – make the most of this opportunity! YOSUO (you only start-up once?)…actually you could start-up more than once, but you get my point.
The doors that open when you join a co-innovation programme are plentiful, so get out there and start building that network.