The good, the bad and the ugly – our favourite campaigns from September
SHARE
Sarah Attwood
06 Oct 2014
So it's now October – how did that happen?! Summer has long gone and no one dares to speak of the holiday season swiftly getting closer. Oops have we made you feel a bit sad? Okay here is a joke to cheer you up – what did the tree say to autumn? Leaf me alone. Yes, we are so witty. Taken from our Tumblr page – 
Oh Holy Shet!
 – here are some of our favourites PR victories and catastrophes from September.
Oh holy shet!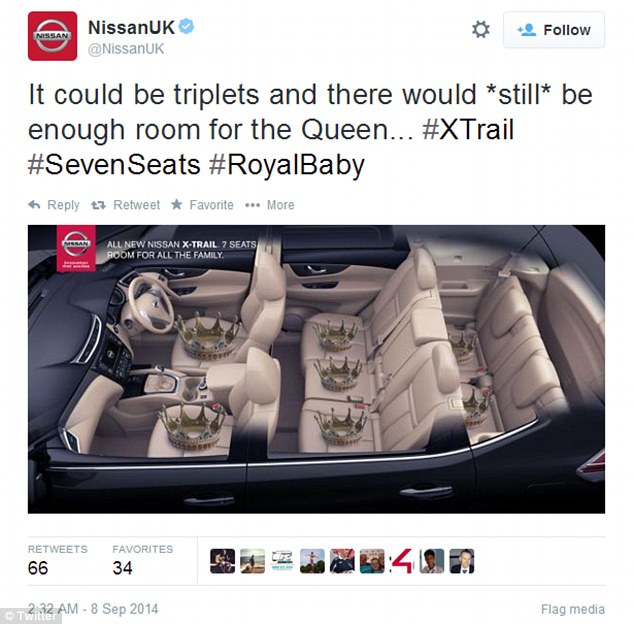 As I'm sure everyone is aware, there is another royal baby on the way. If you haven't yet heard the news, have you been living under a conker or something? (yes we are still trying to push this autumnal theme) And what a surprise, brands have jumped in on the opportunity to shoehorn their way into the news… Some of the good'uns include 
Reed
 and 
Pampers
, but it was 
Nissan
 who surprised us all by releasing a new advert SEVEN minutes after the news was announced. Well done – clearly forward planning works!
Result? Social media winner.
Apple
has been the subject of many jokes following the release of its latest iPhone with reports about how the new iPhone 6 Plus bends when sitting in a user's back pocket. As a result, the hashtags #bendgate and #bentgate started to trend on
Twitter
– not what Apple would have hoped for! But although it appeared to be bad for the big tech brand, many brands jumped on the bandwagon (or wheelbarrow) by creating spoof adverts. One of the brands who was especially successful was
KitKat
, who not only Tweeted a couple of amusing comments, but ended up going viral generating over 20,000 retweets and over 9,000 favourites. Well played KitKat.
Result? Viral champion.
Oh… holy shet
The final day of the football transfer window is always a manic one and even the smoothest of comms teams can buckle under the pressure. Though
Leeds United
'sPR/marketing guys took an unusually chipper approach to what had been a disappointing day for the club. The final hour of the window saw the club sell strike Matt Smith to Fulham. That was it. No big signings. The club's Twitter feed opted not to reflect that - posting a happy little tweet celebrating the end of the window. Fan reactions were… interesting… though not surprising. If the comms team were genuinely live tweeting, then this was a massive mistake. But this actually wreaks for the dreaded 'scheduled tweet' - set up weeks in advance to go out at a certain time. We rarely recommend that approach - least of all when your audience is thousands of angry football fans!
Result? Twitter meltdown.
Oh Donald Trump. You really got caught out on this one. What he thought was a nice gesture actually hit him in the face when a Twitter user sent a message to the businessman saying: "My parents who passed away said you were a big inspiration. Can you please retweet (the message and image) for their memory?" The user attached the photo of Fred and Rose West, the notorious serial killers from the 1970's, which Trump retweeted to more than two million followers. Oops. This mistake resulted in Donald Trump autumn-atically trending on
Twitter
. You have been trumped, Donald.
Result? Celebrity fail.
What's been your favourite campaign from September? Let us know by tweeting us @Harvard_PR, or commenting below.