Pavegen: "The Internet of Beings, it's about people"
SHARE
"I strongly believe that disruptive technologies are the best way to change people's attitudes to energy and reduce the reliance on fossil fuels and grid power"
 - Laurence Kemball-Cook, Founder and CEO, Pavegen
When Archie Wilkinson, Head of
Pavegen
LIVE and Vincent Miceli, President of Pavegen USA, asked us to stand up and jump, we knew we were in for an entertaining
Harvard Tech Breakfast
. According to Archie, our collective group just powered a street lamp for over three minutes. In the famous words of
Calvin Candie
: "Gentlemen. You had my curiosity, but now you have my attention." It's predicted that by 2050, the world will be using 75% more energy than it does now. So really, alternative energy sources should be at the top of any political agenda. Yet currently, there is doubt that the UK will even meet its EU 2020 target of 15% of energy consumed coming from renewables. Enter Pavegen. Ever thought how much energy you produce just by walking? I hadn't, but the genius who is
Laurence Kemball-Cook
did and is now the founder and CEO of Pavegen. Laurence developed flooring technology that converts the wasted kinetic energy from footsteps into renewable electricity.  And with endorsements from the likes of Steve Wozniak, Professor Stephen Hawking, and even
Akon
, who can help but get excited. So how does Pavegen it work? In its most basic form: each tile is flexible, so when stood/jumped/danced/rolled on, mechanical organs spin around, creating kinetic energy. But it doesn't just end with energy creation. Due to the nature our data-led world and the beauty of the Internet of Things, Pavegen tiles also capture and transmit data that can be sent directly to any device.

Archie went on to recap some highly entertaining and thoroughly impressive case studies. One was
installing 51 tiles within Terminal 3 of Heathrow Airport
, powering LED lights situated along the corridor. Another was
11 tiles at the heart of London's Crystal
, bringing the power of kinetic energy to the UK's most sustainable building. Here, the footfall powered lighting in an interactive light wall, as well as tracking real-time data. However, what really impressed was the work Pavegen did in collaboration with Shell. Following the spirit of the Football World Cup the project saw the installation of 200 Pavegen tiles under
a football pitch
in one of the poorest, most dangerous areas of Rio de Janeiro. As kids played on the pitch, their footfall - alongside solar panels - powered the lights for up to 10 hours on a full battery, offering a safe place to play. Its opening even brought international football star Pelé to tears.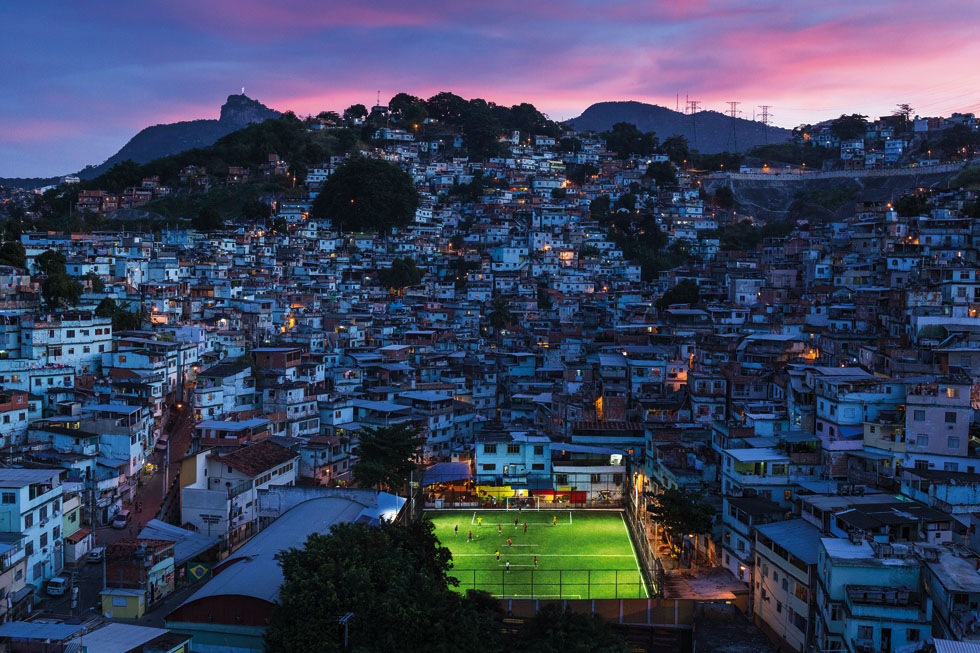 Some would say partnering with a global energy power-house like Shell – one that isn't exactly universally loved – was a bold, if not risky, move. But as Archie explained, "it should be encouraging to see such a company investing in renewable energy technologies and thinking about the future." One of the most interesting points that came out of the Tech Breakfast was this concept of energy becoming currency. Archie explained: "As we connect physical, digital and human environments which we call the Internet of beings, our cities of the future may become "smart" but they need to reward you and I. At Pavegen we are exploring ways in which we can reward every day people through an energy currency. So as you pass over our tiles on your daily commute to work your steps will be collated via an app which digitally connects to our tiles. As your steps build up over time, you will then be able to redeem this value with something like a free coffee - similar to your air miles." The opportunities that surround this are obvious and endlessly exciting. Incentivised to save the planet by walking? Sign me up! While some of the passionate amongst us questioned the applications of Pavegen so far (a bit gimmicky?) there is no doubting the wealth of potential of this technology. The energy challenges our world faces are real, and are already here. Pavegen's ability to take whole cities off-grid, to turn walking into currency and offer light to the deepest, darkest corners of the world, is inspiring. I urge you to watch this space.
Photo credit: Pavegen