The rise of AI-powered influencers
SHARE
Katerina Fernandes
12 Dec 2019
Social media commerce has been one of the most discussed forms of digital marketing in 2019 – the whys, hows and everything in between.
And at the heart of this new breed commerce sits influencer marketing.
Once an experimental industry, it has grown exponentially over the last few years and is on track to be worth up to $15 billion by 2022, up from as much as $8 billion this year alone.
Clearly, brands see influencer marketing as a channel that has proven itself to be effective, so are willing to spend more in this space.
And its power is undeniable. Consumers today are exposed to thousands of brand messages every day. So, when they receive a product recommendation, learn about a new spot or activity to do that comes from someone they already follow and identify with, the appeal to buy/visit/try is already there.
But the market is evolving and there're new players on the block. With the emergence of AI, the latest trends are showing the rising popularity of virtual influencers, or computer-generated image influencers (CGI). And they're taking over social media – especially Instagram.
They first appeared in 2016 when Los Angeles-based tech company Brud created Lil Miquela. Portrayed as a teenage model and musician, the project began as an Instagram profile and has since expanded to Facebook, Twitter and YouTube.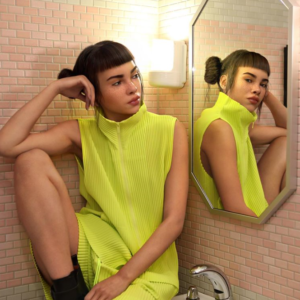 Photo credit: lilmiquela
Lil Miquela is currently the most popular virtual influencer on the platform with over 1.8m followers, and "works" with brands such as Calvin Klein, Samsung and Prada. She's also been "pictured" with a number of celebrities and "profiled" in several publications.
Her creators have given her human traits, making her sympathetic and emotional. They've also been very clever with her speech patterns and mannerisms, she almost seems like a real human being – but she's not.
HypeAuditor has released a list of the top virtual influencers worldwide, along with their rising follower counts. Some of the most hyper-realistic looking ones worth mentioning are imma (154K followers) and Shudu (195K followers).
Photo credit: imma.gram and shudu.gram
Some brands have also begun to tap into this trend and have since created their own virtual influencers to promote their products.
In April of this year, KFC debuted a virtual Colonel Sanders, armed with his very own sponsorship deals with companies such as Dr.Pepper and Casper.
Most recently, Essence Cosmetics have brought to life Kenna, a computer-generated influencer that claims to be a product development intern. She matches the brand's target demographic and cares about similar issues as Gen Zers, such as the climate change or plastic over-use. Scrolling through her IG feed, it's not really clear if most people even realise Kenna is CGI.
Photo credit: KFC and thisis.kenna
Could this be the future of influencer marketing?
Now, there're some obvious benefits to virtual influencers. They give brands greater control over messaging in a way they wouldn't be able to with a human influencer.
Also, the risk of their brand ambassador misbehaving or causing a scandal by doing something that doesn't match their values is pretty low – which can rarely be said for notoriously unpredictable human influencers.
HypeAuditor has also discovered that these pixel-born influencers have almost three times more engagement than human ones.
But how long is it going to last?
Even though the production of high-quality 3D models is expensive at the moment, this is not where it ends. There're ways to reduce costs and over time, as the competition increases, we'll start seeing new developments in CGI modelling that should bring the costs down.
The current popularity of virtual influencers is largely due to them being seen as surprising or newsworthy – also, a little odd and quirky. However, as more virtual influencers begin to appear, the hype surrounding them will likely drop a little.
But they won't disappear.
With further advancements in AI, I'm really excited to see what the future holds and how these CGI influencers will evolve.
As mentioned above, brands have already started experimenting in this space and I think it's worth keeping our eyes out for the changes they bring to the influencer marketing industry as a whole.