Eddie the Intern shows what can happen when a brand lets its guard down on Twitter
SHARE
Phil Szomszor
12 Jul 2017
I can't make my mind up about Eddie.
He's the new 15-year old work experience lad with his hands on the controls of Southern Rail's Twitter account, with an audience of 161,000 (often angry) passengers.
Hi, Eddie here! Here on Work Experience and ready to answer your questions! ????

— Southern (@SouthernRailUK) July 11, 2017
The social media cynic in me is a little bit suspicious he isn't real – his witty ripostes to passengers who vary from supportive to Mickey-taking are too good to be true. Sure, there's photographic evidence, but is it really him behind all the banter?
Maybe his mum or dad is in charge of the Innocent Twitter feed and he's learned from the masters (expect to see other brands hijacking this any day now).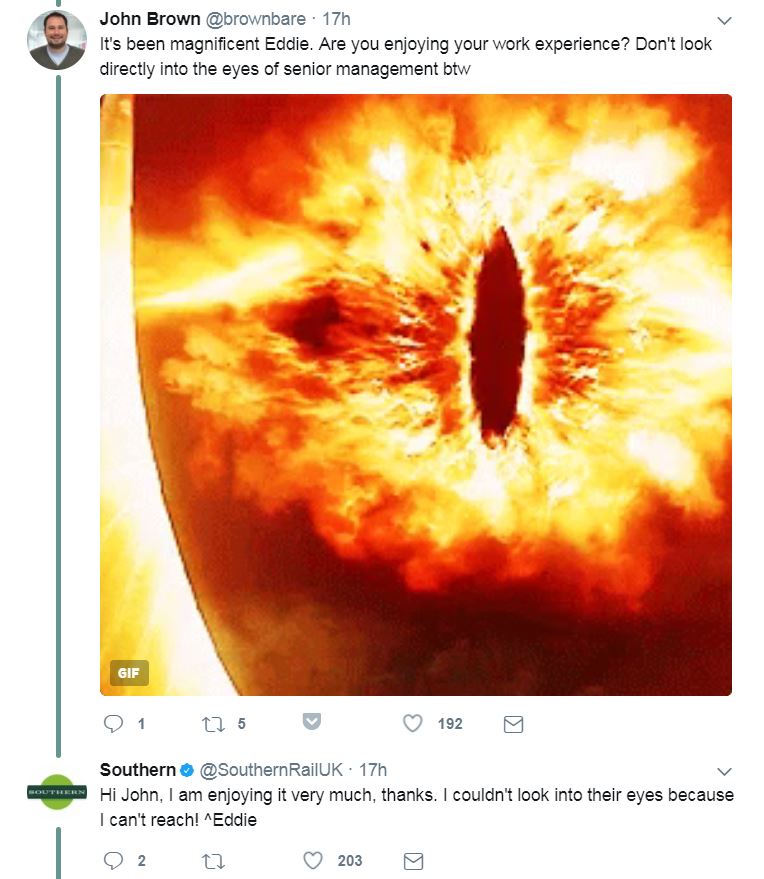 But I want to believe he's real and on work experience and having the best exposure to social media customer service there is.
My own work experience was at a tiny engineering firm in Bexhill, and they mostly ignored me while they played Solitaire, pretending to be working. Eddie certainly isn't being ignored.
Take part in my poll to let me know whether you think Eddie is 'real' or not.
Eddie the intern: real banter or fake Twitter activity with a clever digital team behind it all? #askeddie

— Phil Szomszor (@theredrocket) July 12, 2017
When a brand lets its guard down on Twitter
Eddie got us thinking about our favourite 'Twitter takeovers' or just epic comebacks.
A fairly scientific poll* of the office gave us these brilliant examples of companies letting their corporate guard down and doing what Twitter loves best: having a laugh.
And so, in no particular order, here you go:
1. Sweden
Basically, we're all in love with Sweden now aren't we? The Swedish Number  – an absolutely brilliant campaign – saw real citizens taking calls from all over the world (yes to this), as well as being in control of its Twitter field. General hilarity prevailed.
The perfect example of using social media to drive broad brand awareness.
2. Virgin Trains
Virgin Trains gave everyone – and especially Adam – a real treat by replying to his tweets  about an *ahem* toilet issue he was having on one of its train.
Simple, effective and straight to the point, it was a masterclass in excellent customer service with a side of comedy.
3. O2
This Twitter exchange made everyone giggle and once again demonstrated the opportunity for brands to have a bit of fun and show a bit of personality.
No word on whether it resulted in the first Twitter clap back marriage, but we're keeping our ears to the ground.
4. Everyone
We exaggerate, but this was a serious Twitter love-in.
What started with some great engagement turned into a brand extravaganza with Tesco, Yorkshire Tea and Jaffa Cakes all getting involved (and more).
A seamless stream of puns and wit from some excellent social media managers had everyone reaching for their Jaffa Cakes and – probably – spitting out their Yorkshire Tea.
5. Innocent
We'd be remiss not to mention the Queen (or King) of Twitter here. Innocent has led the way for brands over the years, demonstrating an ability to have fun, showcase personality and get the job done.
The end result has been great brand loyalty and an ongoing reputation as the benchmark for social engagement.
Innocent, we salute you.
***
There you have it. A top five. We're sure there are so many more we haven't even listed, but you can't argue with science, so …
*Just to be clear, it really wasn't all that scientific. More like a bit of Slack 'banter' and a request for people's thoughts.