Is Twitter's "Buy" button part of the digital commerce evolution?
SHARE
This week, Twitter launched the testing phase of a new ecommerce feature, which sees a "buy" button embedded in posts to allow users to buy a product via their timeline with just a couple of clicks.
Content and commerce
This is the latest in a steady stream of digital commerce simplifications, often achieved through the removal of middle-men or steps within the discovery and purchase journey. The roots can be seen back in 2010 where content and commerce began to intersect as the media began eyeing the role of seller, with online retailers simultaneously becoming content destinations.
Digital publications such as The Cool Hunter and Hypebeast opened online stores selling the very products they cover, whilst retailers such as Mr Porter and even M&S have evolved to mirror this by offering strong editorial content to drive their sites and increase sales.
This makes a lot of sense commercially: As a brand, why rely on advertising to another's audience when you can attract your own with the same type of content, whilst simultaneously enriching your customer's experience and boosting sales.
This has been underpinned by an increasing demand from consumers for a destination and experience that marries the values and story that the retailer and their wares supposedly represent. USA based Huckberry is part adventure magazine part general store; a perfect marriage of story, inspiration and goods.
It's all about the audience
Of course, this trend isn't just about editorial content. Was it ever?  It's really about audiences and creating and retaining customers. Cool interviews and photo led articles just so happen to be a good method of attraction and aid in getting consumers keyed up and ready to buy (the look, the life, the feeling – whatever) within a convenient environment. Can you elicit the same response as a purveyor of experiences, not products?
Yes. We've recently seen service brands such as Songkick – which originally began as a destination for live music listings– tap into audiences at the right moment by selling tickets directly to music lovers through their app. In the same vein, Spotify is now enabling the sale of artist merchandise.
Reaching customers when they're at a heightened state of desire is clearly driving sales.
Enter, Twitter
Where does leave social media? Twitter has played a huge part in removing the complexity and barriers for communications between brands and their customers, yet still struggles to make ends meet commercially. Perhaps enabling direct sales would generate much needed revenue.
Twitter's "Buy" button partners for the testing phase are diverse and include the likes of excellent Swedish payments start-up Stripe and the Pinterest-esque marketplace Fancy. In addition – fashion powerhouse Burberry, the multiplatinum Eminem, scrappy punk-rock upstarts Beartooth and a handful of not-for-profits such as (RED) make up the shortlist.
Can Twitter's "Buy" help sellers connect with customers and genuinely offer the right environment to encourage sales? It certainly ticks the convenience box, if nothing else: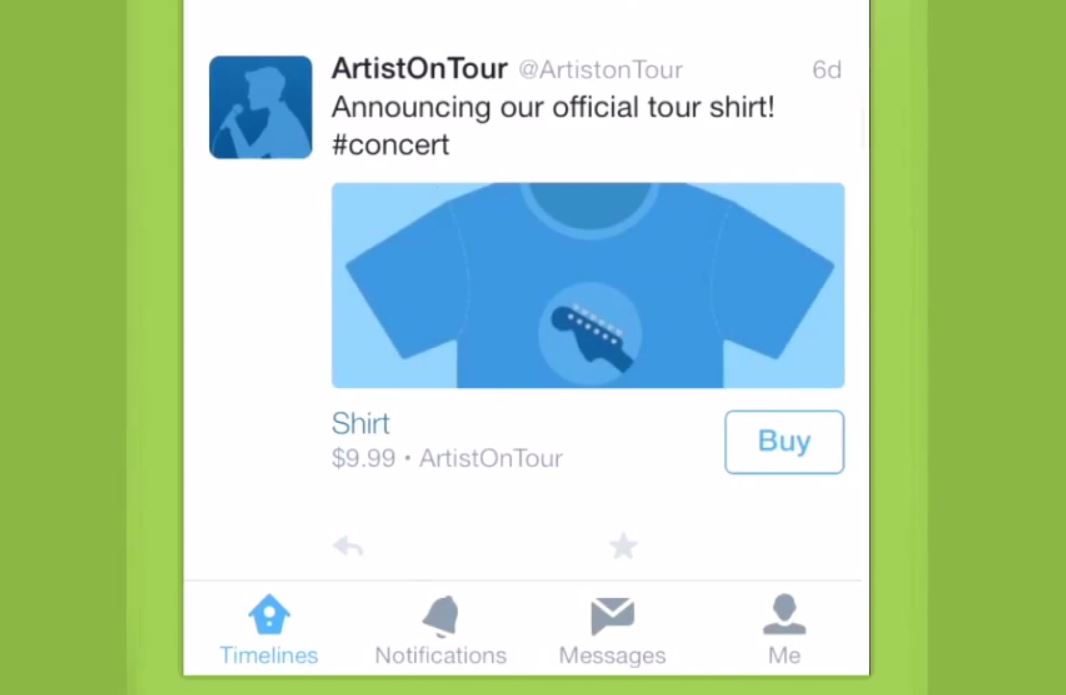 Twitter certainly reduces the need to visit an intermediary destination, which is a plus for consumer convenience but at what cost to the experience, the story? Content rich retail destinations promise to immerse consumers in snapshots of an ideal, experiences or expert guidance. Whilst the strength of marketplaces such as Etsy and Not On The High Street lies in grouping brands and customers to allow cross-pollination and discovery, whilst browsing. This is simply not the case with Twitter.
Convenience at a cost
Twitter's offering differs not only from the editorial driven retailers but also the likes of Songkick or Spotify whose very environment is capable of causing potential customers to experience a heightened state of desire and capture them during one. Twitter will not elicit the same level of passion nor offer the same level of emotional satisfaction.
Instead it'll just make some seller's products slightly more conveniently available to mostly existing customers. In fact, the one area where this might have real impact is the support for not-for-profits, which could genuinely offer a viable and positive alternative to the current "text to donate" model.
Yes, this may drive some extra revenue for Twitter, but the microblogging platform isn't the battleground where the future of digital commerce will be decided.