INTERNATIONAL WOMEN'S DAY: BREAKING THE GENDER BIAS THROUGH GRASSROOTS FOOTBALL
SHARE
Hannah Thornley
08 Mar 2022
The theme of International Women's Day this year is to #BreakTheBias. It's about working together to create a world free from prejudice, stereotypes and discrimination. A world that is diverse, equitable and inclusive. A world where difference is valued, elevated and celebrated.
I recognise that the above may sound overwhelming. The challenge seems too daunting and out of our control. How can one action possibly create a world free from bias – removing stereotypes and reducing discrimination?
Well, without sounding like a motivational speaker up here on my soapbox, I want you to know that a single change can create huge and lasting impact. And I hope that by sharing my experience in this blog, someone is inspired to take action in an effort to build a better, equal and fairer society
This story starts with my grassroots football team and continues (so far) with formally challenging the Football Association to achieve equality at the grassroots level of the sport. Their manifesto is 'football for all' and unfortunately, the organisation's actions do not reflect that philosophy.
Camden Bells FC
The team I founded is an inclusive space, open to women, queer women, trans non-binary people and gender non-conforming folk. Football is known for bringing people together but seeing that in action – watching strangers turn into friends – has been incredibly powerful.
Over the last few months the club has gone from strength to strength, and after winning a few friendly matches, we decided to join a league. We selected The Super 5 League, a leading, London-based five-a-side league, as it claimed to be an 'LGBTQIA+ friendly' and 'inclusive space'.
Unfortunately, it became apparent that the League was not an LGBTQIA+ friendly environment after one of our players, a trans non-binary person, was subject to transphobic discrimination.
They were stereotyped. Based solely on their appearance. An official from the League stated that he was particularly concerned for future opponent's welfare, and because of this, our player would not be allowed to play in a 'women's league.'
He said that this was not his choice. He was merely following the rules put in place by the Football Association – rules that state that players must submit blood tests to show hormone levels before they are permitted to play.
I was taken aback by this request – confused as to why these rules exist at a grassroots level, where sport is purely recreational – and angered as the League, which entices praise and big sponsors because of these LGBTQIA+ friendly labels, is willing to follow archaic rules that cause harm to the minority group they claim to welcome.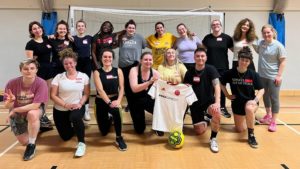 Boycotting the League
I held formal discussions with the League and FA to try and rectify the situation. However, it became clear that they were not going to allow the team to play unless we followed the requested protocols – this meant that an individual player would have to undergo invasive medical procedures week-in-week-out.
We deemed this harmful and unnecessary and decided to step away from the League – announcing our boycott on social media a few days later.
Highlighting transphobia in grassroots football
We initially thought the post would be celebrated within our echo chamber – we hoped to achieve change on a small scale, encouraging the League to remove itself from the FA and continue without following the harmful regulations – but our statement achieved ten thousand shares across the world and generated coverage in mainstream media including Sky News, Sky Sports News, ITV, Goal and Pink News to name a few.
Hundreds of clubs throughout the country joined our boycott. Taking a stand against their leagues and sharing similar experiences. It became clear that our case wasn't an isolated incident, and that discrimination is a systemic problem within grassroots football.
The incidents shared by various teams and individuals were underpinned by the same narrative: all felt powerless against the FA – like their case was too small and they had no voice.
How one change can make a huge difference
Since we spoke out, our challenge has been amplified by those who previously felt helpless. Our open letter to the FA, which calls for urgent reforms, has been signed by dozens of organisations – and we are now in conversation with the FA as we encourage them to take tangible action.
Alongside this, we are working with fellow clubs to create a truly safe and inclusive footballing environment – a space where minority groups will be wholly embraced, elevated and protected – and are hosting our first community tournament to raise funds for Football vs Transphobia this Sunday (6th March 2022) at Haggerston School from 12pm – 5pm.
Our situation highlights that no challenge is too small. No voice is too small. It is the silencing of minority voices that creates an atmosphere where change is made to feel unachievable – when in fact minority voices are actually the most powerful.
One change causes a ripple effect and in turn brings us one step closer to breaking the bias – creating a world free from prejudice, stereotypes and discrimination. A world that is diverse, equitable and inclusive. A world where difference is valued, elevated and celebrated.