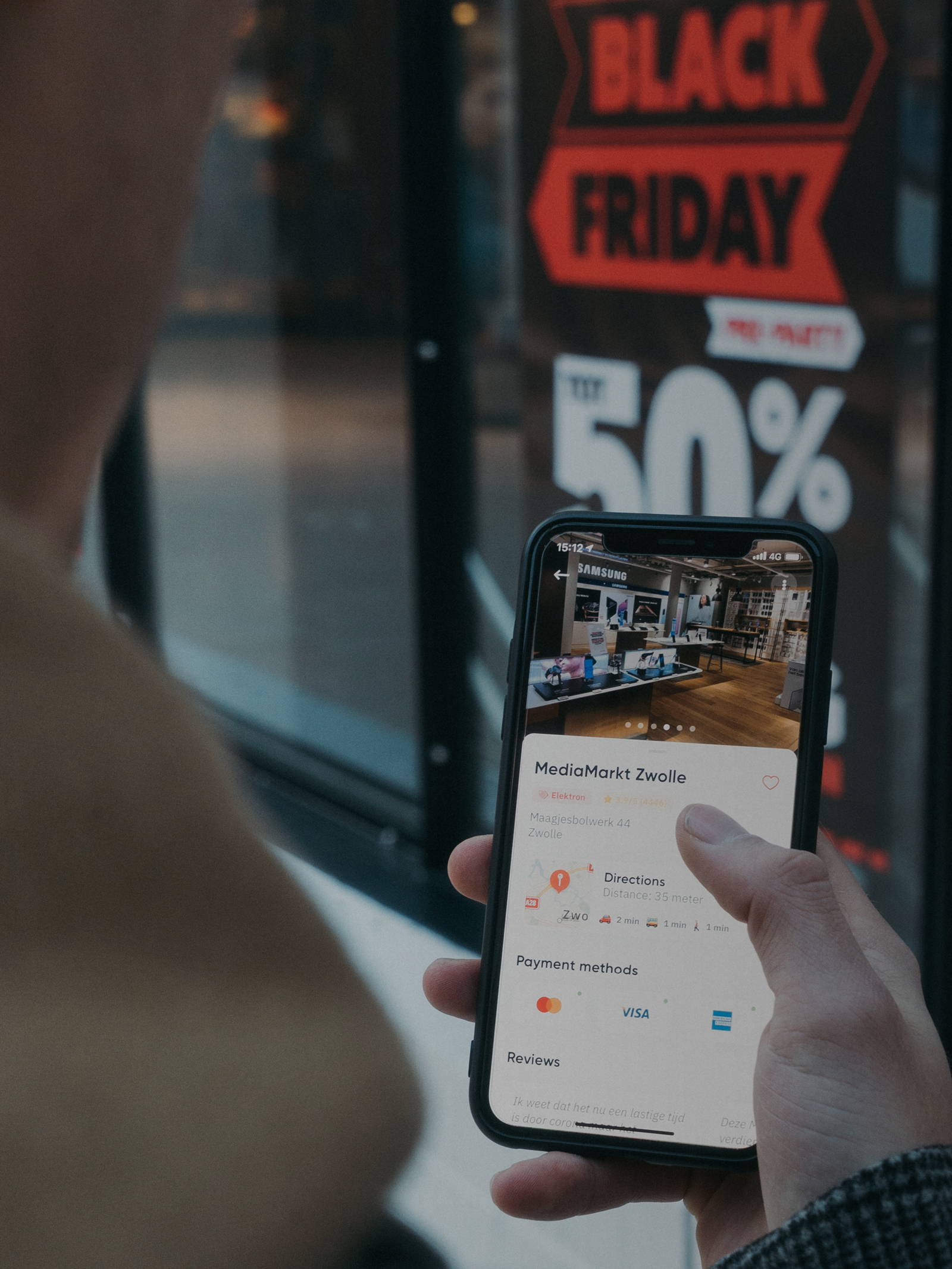 BLACK FIVEDAY
THE RESULTS
145 pieces of media coverage
A broadcast interview with CNBC
£13.8m in new business leads
PR & MEDIA
PLANNING & STRATEGY
SOCIAL
Black Friday is now a genuine phenomenon in the UK. Every year, brands battle to own the shopping frenzy and seize their share of a multi-billion-pound prize pool. So, how did a brand with zero voice in this fiercely competitive market emerge as the authority on Black Friday? Enter: Black Fiveday.
Queues stretching the length of high streets. Stampedes in department stores. A neverending flow of offers swelling your email inbox. This can only be Black Friday, which, despite originating in the US, has grown to become a genuine phenomenon in the UK.
Every year, brands invest in increasingly outlandish campaigns to grab our attention, open our wallets and seize their share of a prize pool now estimated to be in excess of £8 billion.
In light of this fiercely competitive market, it'd seem improbable for a brand with zero voice in the discussion to emerge as the authority on Black Friday.
But this is exactly what happened when we helped Wunderman Thompson Commerce (WTC), a global eCommerce consultancy (previously Salmon) to launch Black Fiveday. So, how did this award-winning, headline-grabbing campaign come to pass?
WTC tracks a huge amount of data. But it wasn't using this data to demonstrate the depth and breadth of its expertise. To change this, we supported the global consulting partner to showcase why Black Friday had become such a significant event in the UK.
Leveraging WTC's pool of data, we worked together to tease out insights that would give it a distinctive point of view. One thing that quickly became apparent was that Black Friday was on the verge of becoming more than just a single-day event.
Instead, according to the data, 2016 would be the first ever five-day event, where shoppers would hammer their wallets all week long. WTC's data analysts also believed this to be the year that mobile purchases would overtake desktop for the first time in history.
This insight presented online retailers with a two-fold challenge: not only would they need to ensure digital storefronts could survive a week- long traffic onslaught, they'd also have to ensure mobile apps were equally as robust.
Armed with this knowledge, WTC set out to create a two-stage campaign that would position it as the go-to brand for retailers, customers and media on Black Friday, or as it was soon to be known, Black Fiveday.
To get ahead of the competition, WTC first created a Black Fiveday Playbook – filled with expert advice on how retailers could capitalise on the shopping boom and prepare their online operations for the increase in traffic – five months before Black Friday.
At the same time, sustained media outreach and targeted social media campaigns issued alerts predicting the week-long shopping frenzy and mobile tipping point.
Then, in the build-up to Black Fiveday, WTC's internal team developed advertising collateral to support sales aims in anticipation of the launch, bolstered further by an online hub for the playbook and other materials.
Finally, on the arrival of Black Friday, the launch itself was all about the execution on a promise to the media. WTC issued a series of infobytes and statistics at 10am, 2pm and 4pm, providing regular insight into the day's retail trends and a digest of each day's activity at 4.30pm.
Overall, the launch was a resounding success, achieving coverage in The Daily Mirror, Forbes and Retail Week (to name just a few). But this was nothing compared to the 145 pieces of media coverage, including 12 national pieces and a broadcast interview with CNBC, attained as a result of Black Fiveday.
But more impressive still was the £13.8m in new business leads generated as a result of Black Fiveday ­– making this the most successful marketing campaign in WTC and Salmon's history. The fact WTC are still revered as the authority on Black Friday is also testament to the feat of Black Fiveday.