Crunch Time: Top Biscuits for PRs!
SHARE
Despite the Waitrose Food and Drink report revealing that Londoners eat the most breakfast biscuits, here at Harvard we think there is a different biscuit for every occasion – not just one to satisfy your early morning stomach rumbles.
We decided to list our favourite selection of biscuits to meet every occasion in the PR work day.
Best for… Eating on a call
It's got to be the Jaffa Cake. Its soft bake makes it the perfect partner for consuming on a call. With no crunching to give you away, enjoy its orangey chocolatey goodness at full moon and half-moon till you've totally eclipsed.
Best for… Impressing clients
The preferred choice of biscuit for both Oxford and Cambridge dwellers, a chocolate digestive is your answer to a last minute client drop in. Impress them with your educated choice – but don't let yourself down by dunking.
Best for… Getting through pitch prep
For those longer than usual days, pick a biscuit that will keep on giving. The classic custard cream, with its potential to be deconstructed for prolonged eating pleasure, will supply an ongoing energy supply at every layer.
Best for… A journalist meeting
A hobnob for hobnobbing? Why of course. When socialising with journalists have a plate of these on offer to accompany your excellent conversation #BondingWithBiscuits.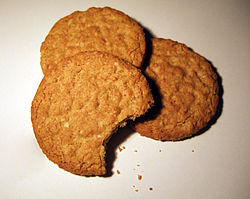 Best for… Flexing your social skills
What could be a more inspirational biscuit for conducting some outstanding social media activity than the world's most shareable biscuit? Snap and share your pack of garibaldis to entice followers in and out of the Twittersphere.
Comment below and tell us about your favourite biscuit!