The good, the bad and the ugly – our favourite campaigns from October
SHARE
Sarah Attwood
05 Nov 2014
The good, the bad and the ugly – our favourite campaigns from October
The days are growing darker and the weather is getting colder... this must mean we have reached November! The clocks have gone back leaving us sitting in the dark by 4pm – not exactly good for brightening the mood! But there have been some cracking media campaigns and stunts over the last few weeks which have helped keep any hint of winter blues at bay. Taken from our Tumblr page –
Oh Holy Shet!
– here are some of the our favourite wins and failures from October:
Oh holy shet!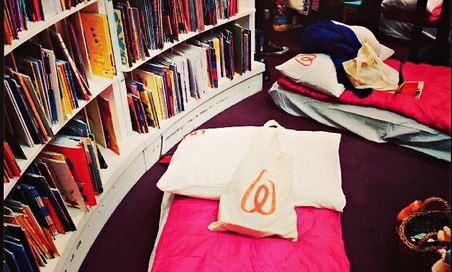 Some great PR for
Waterstones
 last month. In early October many newspapers reported that an American tourist, David Willis had found himself locked in Waterstones' Trafalgar Square, where he tweeted the company asking to be "freed". Waterstones was "mortified" by what had happened so decided to make the most of the fact that hundreds of people  said they "would kill to be locked up in a bookstore." It had a lock-in! An organised sleepover was held in its Piccadilly store in partnership with
Airbnb
, with 19 guests chosen through a competition. Some great coverage has appeared during the days that followed – all praising Waterstones for having a sense of humour and responding to
Twitter
pressure in a light-hearted way. Perfect example of turning a potential PR problem on its head!
Result? Crisis comms champion!
https://www.youtube.com/watch?v=b1XGPvbWn0A
This home-made video reveals how women can be vulnerable to harassment when walking down the road. Originally filmed by two friends looking to see what would happen if a girl walked through the streets of New York, this video shows a woman being hit on over 108 times over a 10 hour period. It has created a huge buzz on social media channels and is now being used by
Hollaback!
, an international movement to end street harassment, to highlight why this shouldn't be happening to men or women. What a great way to build awareness around this issue – good job!
Result? PR guru.
Oh… holy shet
Bad PR for
Top Shop
last month when a customer Tweeted a picture of her size 8/10 friend stood next to an in-store mannequin. The difference here is a big one and social and traditional media was abuzz, questioning the body image the high street retailer is promoting. The retailer has since put out a statement saying Top Shop has "made it a priority to showcase a healthy size image". It then said "The mannequin in question has been used in stores the past four years and is based on a standard UK size 10. The overall height, at 187cm, is taller than the average girl and the form is a stylised one to have more impact in store and create a visual focus. Mannequins are made from solid fibreglass, so in order for clothing to fit, the form of the mannequins needs to be of certain dimensions to allow clothing to be put on and removed; this is therefore not meant to be a representation of the average female body." Although the retailer needed to address the situation, none of its statements have done much to calm the furore. We'll be watching this one with interest…
Result? Twitter meltdown.
DHL
joins
Top Shop
 this month as one of our top PR failures. After hearing the awful news of Jules Bianchi crashing in F1 earlier this month, DHL took to
Facebook
 to send its condolences. However, what it thought was a nice message to Jules was actually a controversial one. The brand wrote "by clicking like on this message, you'll be sending Jules your best wishes for a speedy recovery." As expected, this caused a social media uproar with many outraged at the fact that DHL had used this tragic event to promote its brand.
Result? Facebook flop.
What's been your favourite campaign from October? Let us know by tweeting us @Harvard_PR, or commenting below.