Our Tug Life takeaway: data, data and more data
SHARE
In the midst of London Tech Week, we headed down to sunny Shoreditch for the third in a series of 'Tug Life' events. This one was all about how we can keep up with audiences. The event was hosted by a number of great speakers in a typical Shoreditch-style warehouse. Here are my highlights...
Stephanie Jarzemsky – UK Sales Lead for Google Analytics 360 Suite
Naturally, Stephanie focused on how brands can drive competitive advantage through audience data and that the key with today's consumer is getting it right in the short space of their time that you have. To quote Herbert Simon: 
"A wealth of information creates a poverty of attention."
And that was 40 years ago, before the internet came along and inundated us!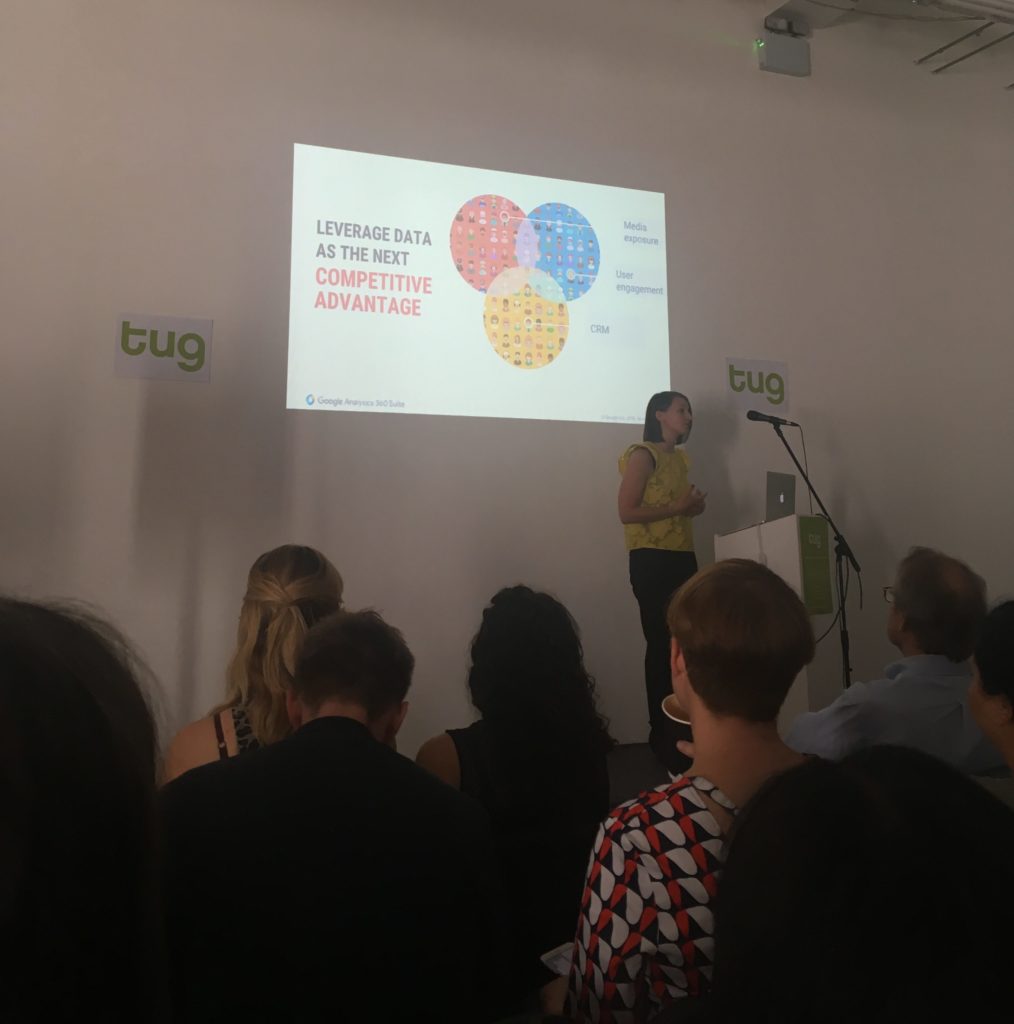 Until now, brands have been able to use 'data studios' – dashboard tools that create a user-friendly and shareable overview of analytics for brands, giving them real insight into what works for consumers as well as the business. Looking to the future, Google want to move from mobile-first to artificial intelligence (AI)-first with the launch of Google Analytics 'Assistant'. The tool will be similar to data studios, with the introduction of artificial intelligence, pulling-out any anomalies or insights that don't appear to be useful or relevant – exciting stuff! Stephanie finished with an overarching view from Google: that data is the future for gaining competitive advantage. I'm inclined to agree.
Heike Fischer – Global Brand Director for AXE/Lynx, UNILEVER
Heike offered us a fantastic example of identifying your audience's culture, tailoring your messaging to resonate with your audience and acting on your messaging to bring it to life. Lynx's typical target audience consists of 15-18-year-old males – an ever evolving audience, making it challenging for brands to stay relevant.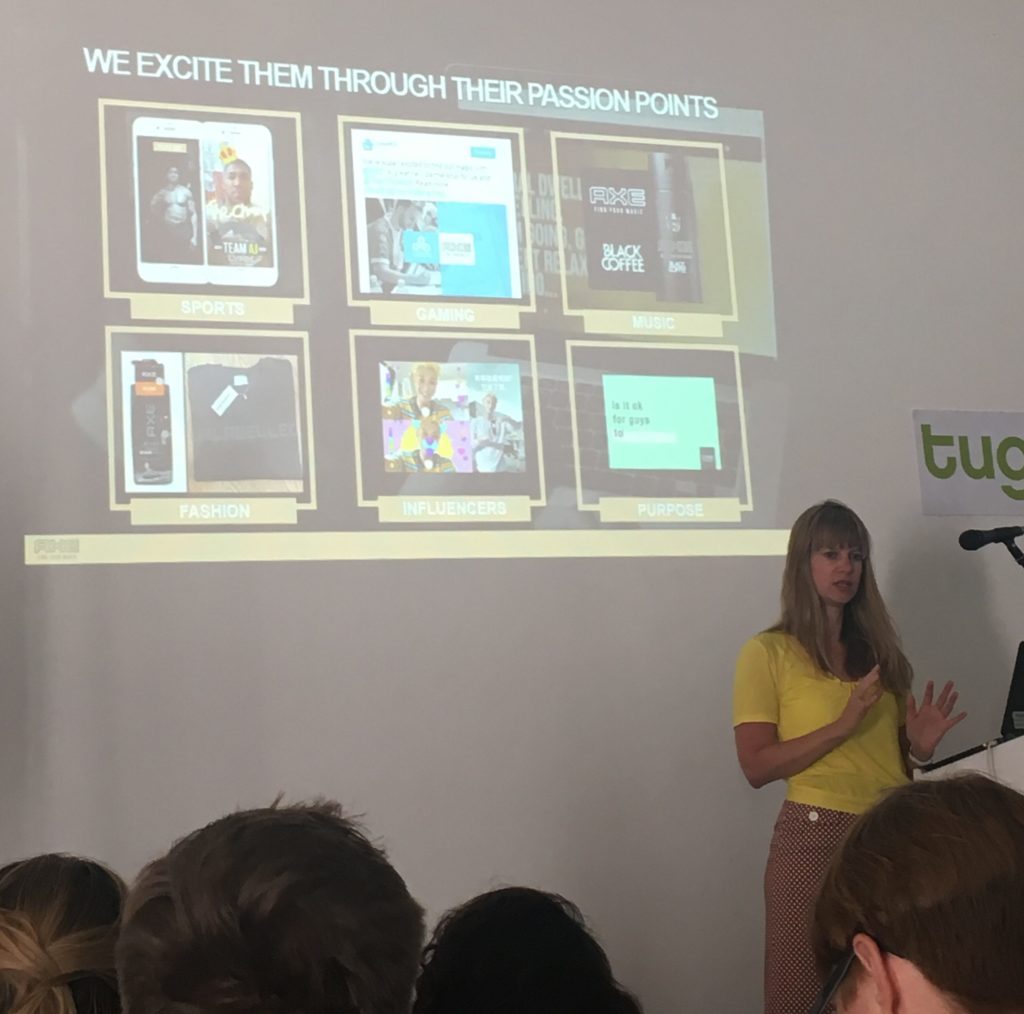 10 years ago, Lynx's messaging focused on teenage boys being perceived as manly to attract the opposite sex – for today's young man this ideology just does not resonate. Lynx understood this, and adapted its communications accordingly. Today's society holds a huge focus on 'female empowerment' – which is awesome. However, Lynx discovered that in the wake of this focus, young men are now starting to feel left behind. Research showed that 91% of men have been told to "man up" and 41% are afraid of looking different in case they are judged. Lynx decided to switch its approach from 'masculinity' to 'individuality' and inspire the 'new guy', fighting the limitations of traditional masculinity and redefining it for the modern man. With this in mind, the brand launched its
"Find Your Magic" video
at last year's Super Bowl. The ad was spot on for the audience that Lynx was trying to engage, as was the event as a launch setting. Not only was the messaging right, but Lynx successfully identified the most relevant channels to target teenage males – through gaming, music and fashion collaborations as well as utilising relevant social platforms and influencers. Anthony Joshua signed up as an ambassador and communicated through YouTube videos and Snapchat filters. Lynx didn't stop there. It wanted to show it cared about the cause it was promoting, so it put its messaging into practice by ACTING on its purpose – through two partnerships:
Partnership 1: With Google Analytics identifying relevant search terms such as "Is it ok for guys…" Whilst some were amusing, for instance: "is it ok for guys to eat quiche", others highlighted the grey area that many young men are in regarding self-esteem.
Partnership 2: As a result of the worrying search terms, Lynx partnered with 'Ditch the Label' – an online charity helping young men suffering with depression.
This demonstrates Lynx putting its purpose into practice and was in turn received positively by both the media and the brand's target audience.
Ned Miles – Account Strategist at Twitter
Ned opened the floor with his internal hashtag #PlanningForGold – his reference to using Twitter data to better understand and engage with audiences. Twitter provides us with a live snapshot of what's happening in the world due to its trending function, its influential audience and the open nature of the platform.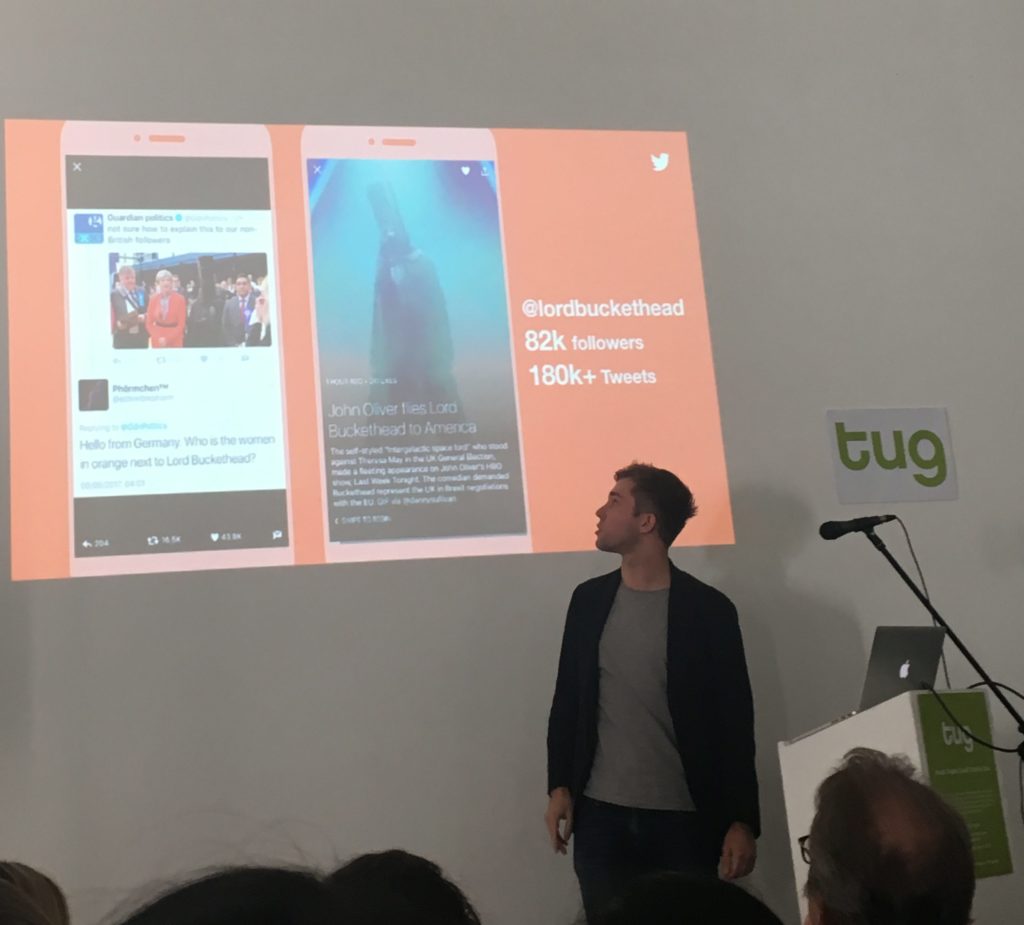 The brand recently acted as a battleground for campaigners in the UK General Election and was arguably responsible for the rise of
@lordbuckethead
, who used the platform to target an audience that ultimately provided him with 249 votes. Ned differentiated Twitter from other platforms that are predominantly self-serving by describing Facebook as leading with "look at me" while Twitter leads with "look at
that".
From a brand perspective, this argues that Twitter offers the largest insight into how consumers think and where their interests lie. Twitter currently offers 'Tweetdeck' – a tool that allows brands to track their target audience in real-time, from what they are watching, eating, doing and thinking. Also coming out in Q3 is "Audience Explorer", which will allow planners to discover insights about their audiences through analysis of keywords and conversations before providing a full audience breakdown – one to watch out for! Ned left us with a lasting description of Twitter, that it is the "largest archive of human thought available." Food for thought as we all try to make sense of this growing wave of social data.
Image: Twitter