The Harvard Horticulturalists – Gardening through lockdown
SHARE
As it's Mental Health Week, here at Harvard we've been thinking about the things that have really boosted our moods during lockdown. And there was one particular IM thread that came to mind – our highly anticipated plant updates.
Whilst gardening's benefits to mental health are well documented, many of us were surprised by just how therapeutic it can be! Whether indoor or outdoor, our Harvard Horticulturalists (this is now a thing) have been experiencing its wellbeing benefits directly. Our excitement has been fuelled by sharing photos, updating on indoor propagation, cuttings and new shoots sprouting, transforming our spaces, tips, plant identification and most importantly: encouraging each other every step of the way.
From novice gardeners to first time vegetable growers and budding horticulturalists, this blog is all about sharing experiences, encouraging others to pick up those spades and secateurs and how you can boost wellbeing and resiliency through gardening.
Even if you don't have an outdoor area, we hope this will show you how many have managed to bring the outdoors in. And if gardening really isn't for you, we've even thrown in some links to some natural meditation music as an alternative!
It's time to meet our gardeners…
Louie St Claire, Chief Executive Gardener
A growth mindset has always been key to our CEO Louie, who has been busy gardening at the weekends and has provided a great source of entertainment for his kids.
Louie says: "Throughout all of this, it's been about finding things for me and the kids to do – a huge positive has been finding things to do together. Growing veg, from picking what we'd like to eat through to the joy of watching it all grow has been really good fun and the kids love it. This year we have been good at growing things that we all want to eat, which is an added bonus."😊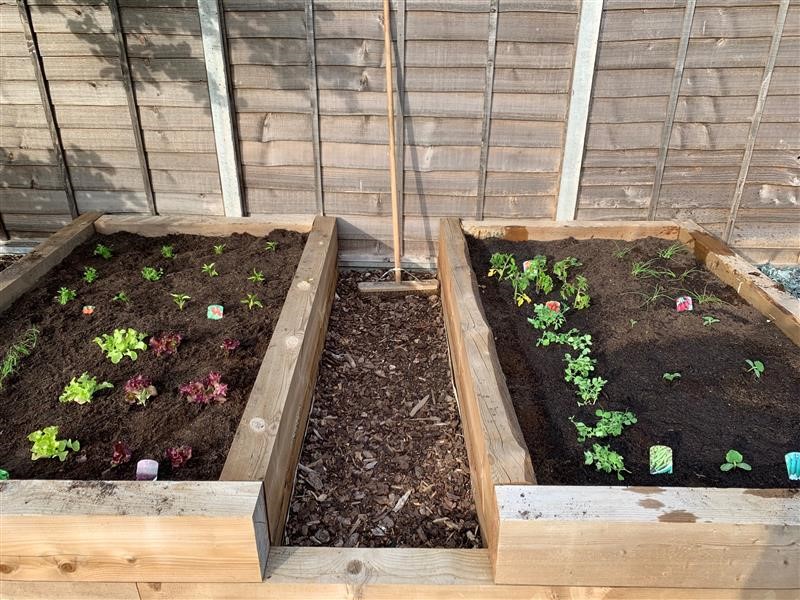 Lorna Hughes, Head of Herbs and Director of Lemons
When life gives Lorna lemons – she decides to grow them! Good chives only 😉
Lorna says: "Can't say I've ever been much of a gardener before… on account of never having any outdoor space since I moved to London. But I moved to a new house just before Christmas and getting the terrace looking good enough to justify the cocktail consumption that'll take place there has been my main lockdown project. It's kept me busy during what has obviously been a tough time for everyone. Even if you have nothing but a windowsill available to you, I'd honestly recommend buying some small planters and seeing what you can do. It's surprisingly relaxing and cathartic to watch the garden come to life! Though it does scare me how much I sound like my gran right now."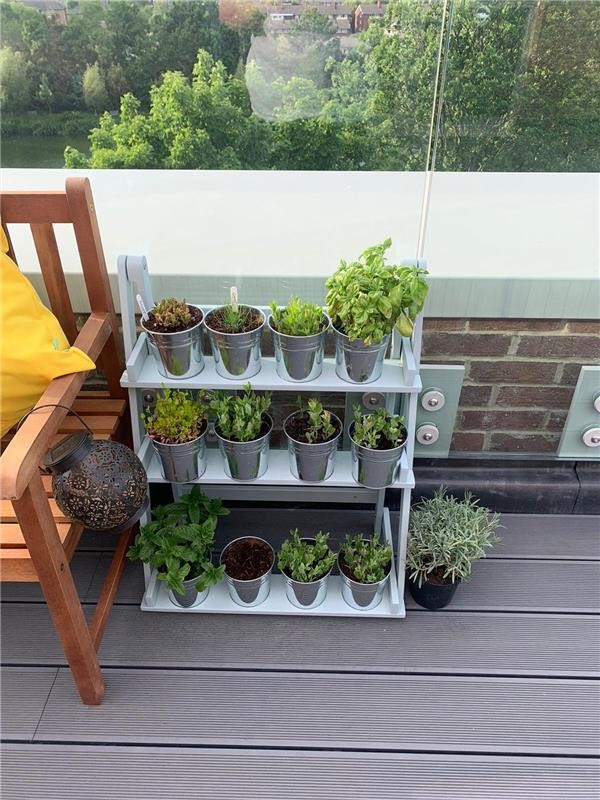 Alex Butter, Senior Horticulturalist Executive
Studying towards a horticulture course at the RHS, Alex confesses that working from home has been great for her container plants and all 40 of her indoor and outdoor plants.
Alex says: "Gardening for me is the recipe of life! And in the words of Rupi Kaur "those flowers you plant in the garden each year will teach you that people too must wilt, fall, root and rise… in order to bloom." Plants have taught me a lot about mental resiliency as they remind me of the ebbs and flows of life and how to adapt to difficult situations… and spot opportunities for new growth. It's been a joy to see my colleagues progress with their own projects and I get really excited to see how everyone's hard work is starting to blossom! My advice is there is no such thing as a 'green thumb' only learning from things that haven't worked. Oh… and not being afraid to cut off dead leaves – they'll thank you for it!"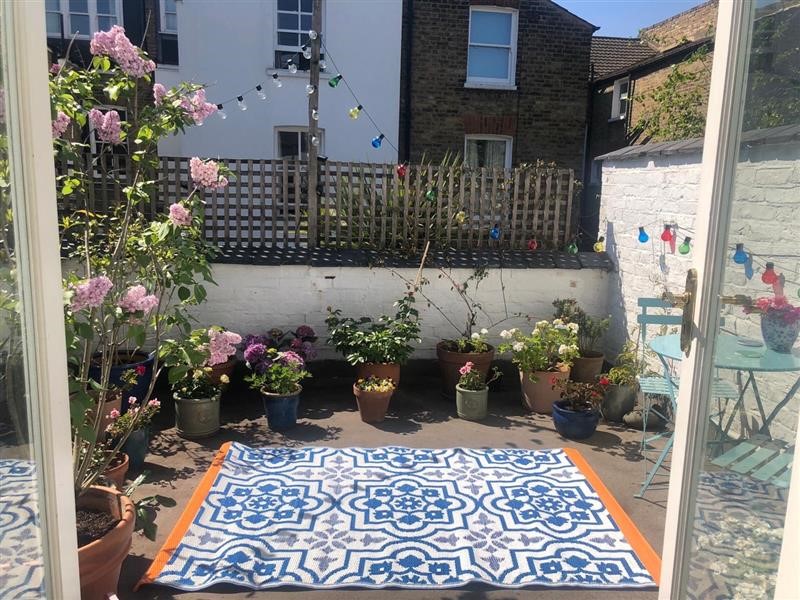 Sam Shaw, Senior Indoor Gardening Executive
Sam is a hands-on cat/plant dad who believes that continual pruning and moving your plants around the flat is the best thing you can do to raise a healthy indoor garden.
Sam says: "This year I've decided to take my hobby of wandering around flower markets to the next level and embrace fitting as many plants into my limited flat space as possible! While there have inevitably been a few mistakes along the way (always make sure your plants have adequate drainage!) I'm now the proud owner of well over 30 happy and healthy indoor plants. They really do go a long way toward making a flat feel like home, and I'm always on the hunt for more. My advice to any budding indoor gardeners would be that it's never too late to start, and your plants will put with almost any conditions if you do your research!"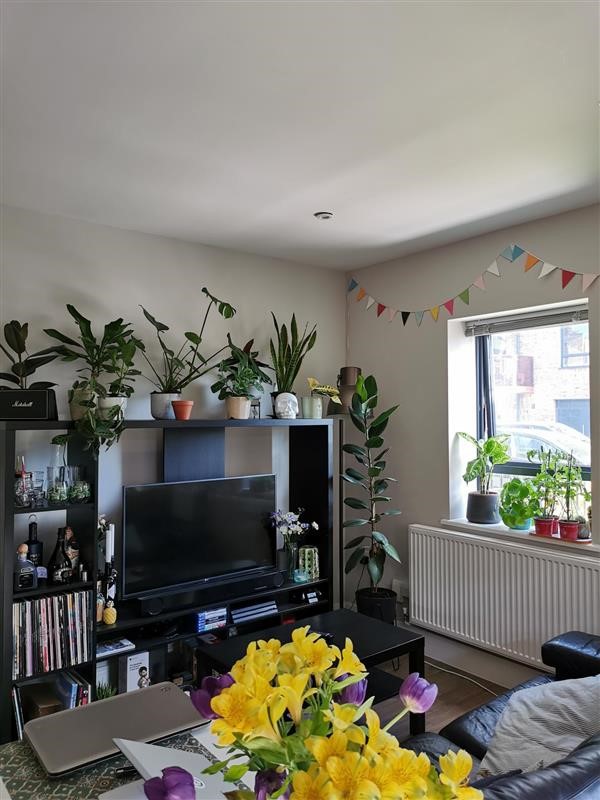 Georgina Greenspan, Garden Development Director
New to the gardening scene and loving it, George our Business Development Director has recently taken development to a whole new level; transforming her flower beds with lots of colour. She's found gardening really therapeutic at the weekends and always looks forward to the team update.
George says: "For me, gardening has been an opportunity to allow my mind to switch off and stop worrying and enjoy some of the smaller things in life – like my tiny garden, which I am so incredibly grateful for right now."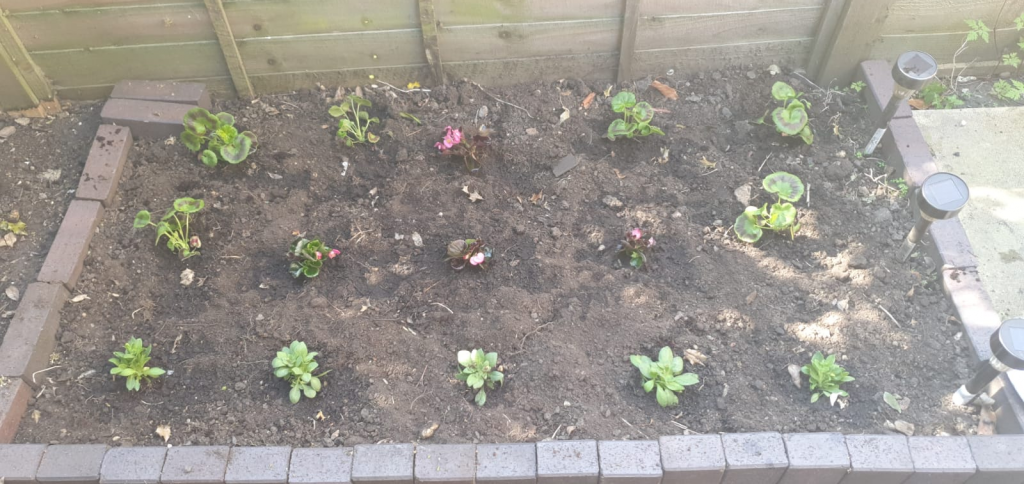 Rachel Harris, Propagation and Cuttings Executive
Our green fingered executive Rachel has been experimenting with her propagation skills with an abundance of cuttings and never fails to keep us rooting for her plant progress with her daily leaf updates!
Rachel says: "I am staying with my family which means I've left my plants to fend for themselves in this dark and dangerous world. I missed the light and happiness they brought to my life, but lockdown prevented me from buying any more green friends. That left me with one option – grow my own. I took the kitchen scissors to a plant in a living room and lo and behold I now have two little baby plants. They're still transitioning from water to soil so not out of the woods yet, but so far so good. My favourite thing about plants is their hardiness and relative predictability – a little bit of global uncertainty isn't enough to stop them growing. 😊"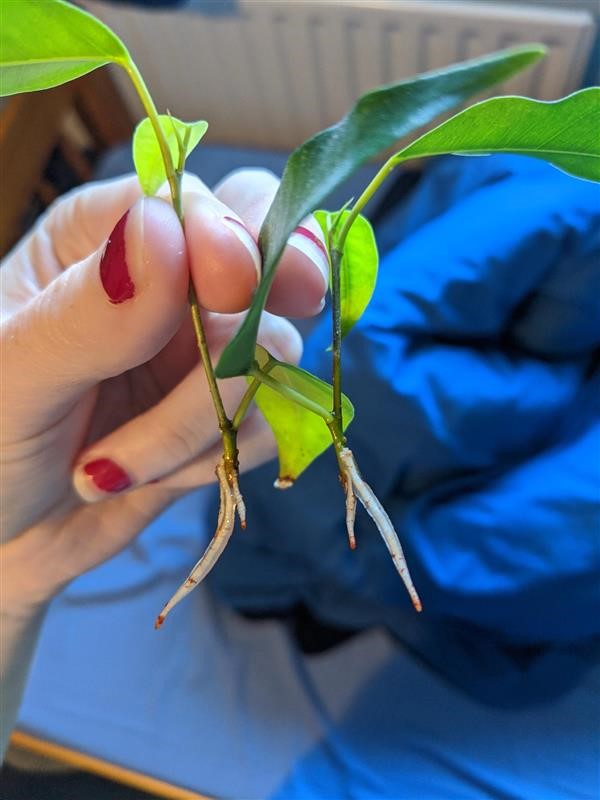 Roxy Nucu, Junior Greenhouse Planner
Meanwhile Roxy has demonstrated how to turn her studio flat into a greenhouse. Although in Heinz sight (😉) she's expressed concerns over how many tomatoes she has…we're all pretty excited about them and hope there will be some left for us!
Roxy says: During lockdown, I've accidentally turned my flat into a greenhouse. I planted a few over 50 tomato seedlings with little to know they might all survive my care. Still, it was a great attempt. Gardening helped me stay present during times of uncertainty. It's kept me connected with nature when I couldn't immerse myself in the great outdoors. And, the tomato plants have inspired a novel appreciation for plant-based diets.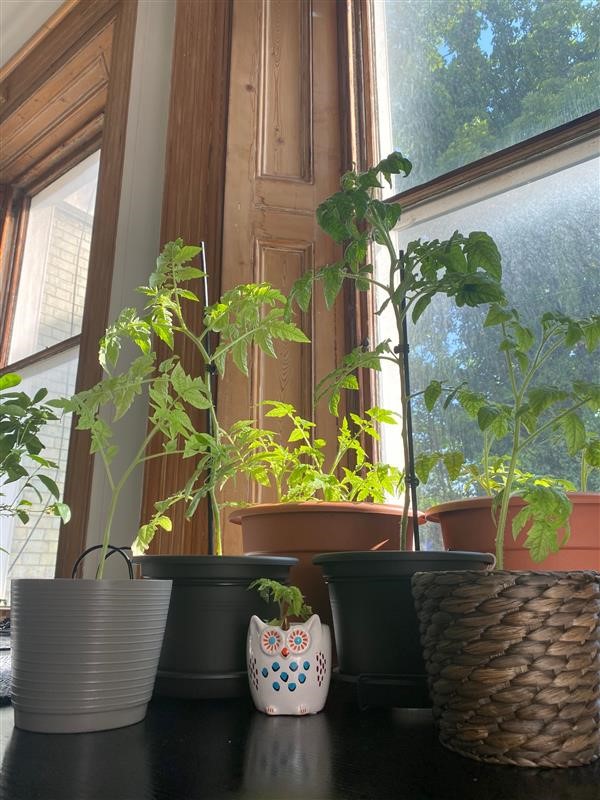 Lucy Maitre, Creative Gardening Landscaper
Not only is Lucy a woman of various creative talent, she's extended her skills into gardening both inside and outside her flat.
Lucy says: Throughout this lockdown I've learnt to focus on the little things and take the time to appreciate the things I would normally miss. Seeing the plants grow right in front of me (quite literally) and hopefully seeing them flower and produce fruit soon, has been really rewarding and I'll continue to grow what I can every year. My advice for anyone wanting to do similar: patience is key. The amount of times I've thought my plants were dead or didn't want to grow… I was wrong!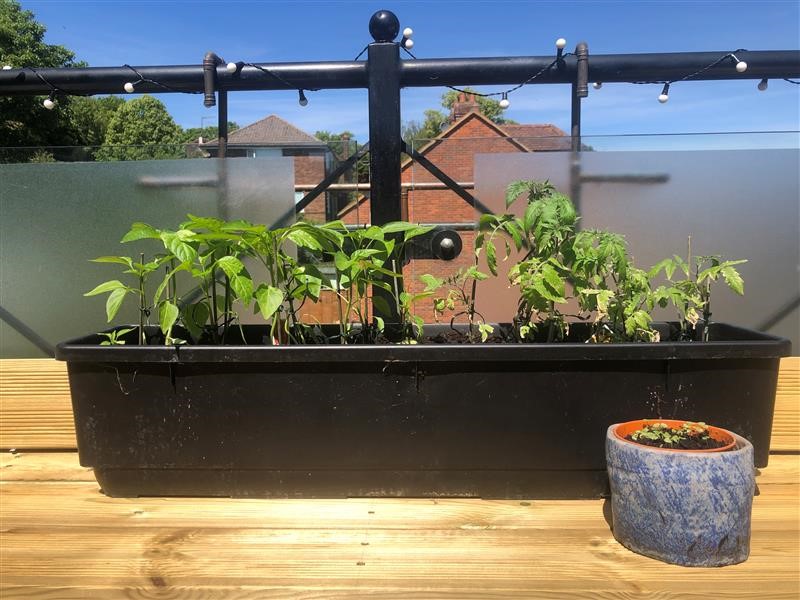 Lisa Coutts, Vegetable Patch Director
As you can see during lockdown Lisa has been busy setting up a very serious vegetable patch. This woman doesn't beat around the bush!
Lisa says: For someone who has killed more than one plant in her life (even a few cacti!), I never thought I would get so into gardening. It's an amazing feeling to watch the tiny seeds that you plant grow into a living thing. I love that I get to take moments throughout the day to water, tend to or (in my case) peer obsessively at the seedlings willing them to grow – it allows me moments of calm and quiet that are so important right now. If I was to impart any wisdom that I've learnt from my last month of gardening, it's that there's a lot of trial and error; but you shouldn't be afraid to try!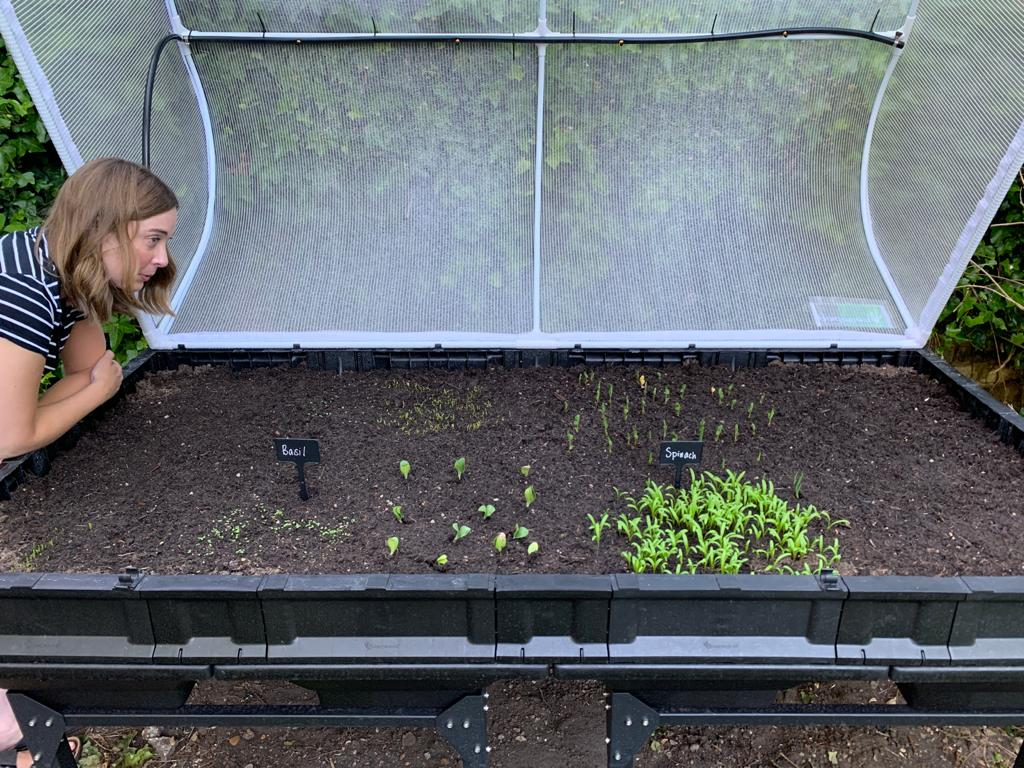 So, there you have it! We hope our team of remote gardeners has inspired you with their positive experiences pottering around during lockdown.
But don't forget there are lots of other things you can do if gardening really isn't for you like yoga, meditation and plenty of exercise to keep those endorphins flowing!
But in the meantime, we recommend…. keeeeep gardening! 😊
The Harvard Horticulturalists
x